PRODUCT REVIEW: POSH POPPET CARDIGAN – VERY PACKABLE; IDEAL FOR TRAVEL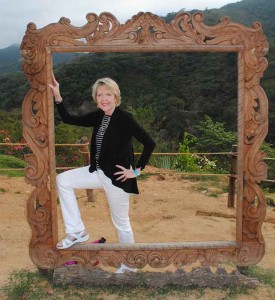 I was introduced to the Posh Poppet cardigan jacket when I attended the Chicago Travel and Adventure Show in February 2015. It was there that I saw and fell in love with the Posh Poppet, a wrinkle free black jacket that has a dressy look and the feel of a feminine tuxedo. It features a longer back, shorter soft lapel front and ruching on the long sleeves. (The photo of me in my Posh jacket was taken in Puerto Vallarta, Mexico.)
What makes this jacket really great for travel is its ability to be packed into its "pocket" or pouch (which is also water repellent). As the company literature says, "When you no longer need to wear your Poppet, it easily folds away and 'pops' back into its pocket, seals with Velcro and features a wristlet for easy carrying, making it the perfect addition to your travel outfit." Even after it has been in its pocket for long periods of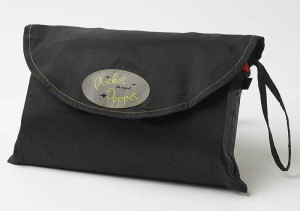 time, it has only slight wrinkles that fall out quickly. 

When the Posh Poppet cardigan jacket is worn, the pocket is concealed in the back of the jacket and is undetectable when worn. Small essentials (lipstick, credit card, cell phone, business cards, etc.) can be stashed in the pocket, so you may not need to carry a purse.
I wore my black Posh jacket on a recent trip to Puerto Vallarta, Mexico, both on the plane and during the trip on two evenings. I loved its look and feel and received several compliments on it. It is now a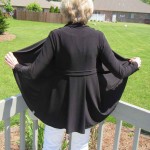 wardrobe staple that I can easily tuck into my luggage or take with me to put on in air-conditioned spaces (planes,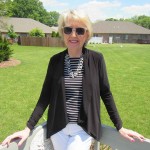 restaurants, shopping malls) when I get cold. The Posh cardigan is easy to care for, too. Just machine wash on gentle cycle, hang to dry or dry flat.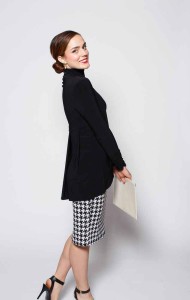 Two other styles of the Pocket Poppet cardigans are available on the website. While my Posh style cardigan comes only in black, the other styles (Classic and Lotus) come in several other colors. The Posh fabric is the most wrinkle-resistant of the three and has the most structured styling, but all of the styles are well-designed and would be a great addition to your travel wardrobe.
Limited time special: Save $30 off all Poppets July 1-8 only, including free shipping in the U.S.. Use code July 4 at checkout. After July 8, use TTG20 code for $20 off through August 9, which also includes free shipping in the U.S., for any Pocket Poppet purchase.  Just go to the website, pocketpoppet.com, and start shopping!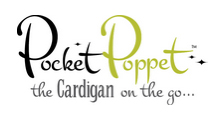 Tropical Travel Girl Review
Pocket Poppet Cardigan On The Go | Made in the USA | Patent Pending
http://www.tropicaltravelgirl.com/product-reviews/